ORPHEUS 2LT SOUND CARD
*WIP* HOMEPAGE

Page under construction!


Order info at bottom of page!
Welcome to the Orpheus 2 LT Sound Card homepage.
Currently this page serves as a quick order page for the limited black Orpheus2 LT release.
Orpheus 2LT is a PC ISA 16bit soundcard , aimed for DOS usage.



click on image for larger version

The Orpheus 2 LT is an upgraded OrpheusI souncard and as such the main features are the same:
based on the Crystal CS4237B controller which offers SB/SB-PRO/WSS compatibility
discrete YMF289B OPL3 chip
44.100hz 16bit S/PDIF output of all internal and external audio sources
4-layer PCB design with attention to analog output part and usage of audio-grade capacitors
2 MPU-401 options: internal CS-4237 UART interface or PCMIDI intelligent mode MPU
Gameport, Line IN, Line OUT, MIC and Coax S/PDIF ports
Wavetable daughterboard and AC'97 headers
dedicated midi-OUT port with the ability to also use at the same time a common gameport->midi or DB15MIDI adapter for an extra OUT and IN ports

So what is new over the OrpheusI design?
revamped PCB design and analog output section which result in better sound quality than the original OrpheusI
new way for OPL3 interfacing which allows the YAMAHA OPL3 to be accessible under Windows , no more CystalFM-only limitation under win9x

Basically due to the experience gained from OrpheusI and better understanding of the CS-4237 audio controller a better soundcard was possible to make!

More info and development log can be found on VOGONS forum, in the OrpheusII thread.
Please also check the OrpheusI homepage for more info as both cards use the same CS-4237 audio controller.


29-JAN-2023 OrpheusII (LT) Windows9x drivers released, download

HERE .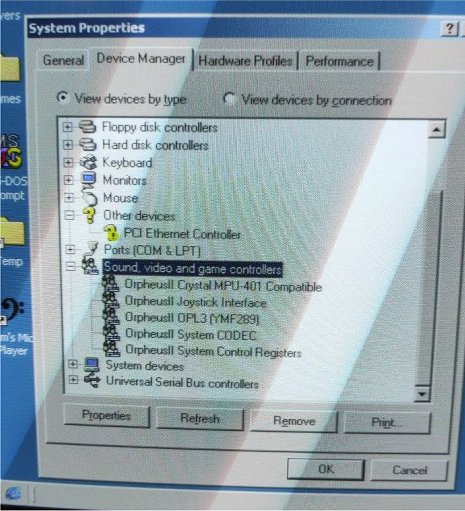 Driver is based on the last Crystal CS4237 driver version PV2860.
Just extract archive to a directory and when asked about CS4237B drivers point Windows to said directory.


Black OrpheusII LT boards need a firmware update which has been mailed to the few owners of these boards.


Remember that the onboard PCMIDI MPU-401 interface is not a PnP device and needs to be added manually
to the system if you are not making a fresh install from scratch. PCMIDI related files/drivers are located HERE .

19-JAN-2023 Orphinit 0.57ß version released, download

HERE .


Please test this new version and give feedback / bug reports either directly to Edro or Leo
or more preferably post directly in the official ORPHINIT thread over at VOGONS forum. Thanks!

Changelog
Several bug fixes and improvements
Added support for the OrpheusII LT boards


Notes when using witth the "Limited Black Edition" OrpheusII LT boards:
please move the jumper to the "OrpheusII" position as shown in the photo below
in ORPHEUS.INI set card-type setting to: cardType=OrpheusII

29 Nov 2022: Orpheus 2LT limited Black Edition is now sold out!



Please fill this order form HERE - treat it as a non-paying pre-order , once a card is ready for you we will contact you about
payment info. Be careful to enter your email correctly so we can contact you back!

Be advised that these are the only email addresses that will contact you about a purchase (either Edro or Leo depending on availability) :


Problems?
Just contact us! We'll be happy to help and resolve any issue you might have!




Please check out our other retropc projects:

PCMIDI ,

MegaCard and
Action Rewind
Thanks for looking!